Ocula is has been with Aaron and I for almost 3 years. I bought her from a reptile dealer in my home town. She had been captive bred, and was absolutely beautiful. Her color is gorgeous, as you can see. Her brilliant blues and greens caught my eye immediately.

It only took me a day to think about it, and I went back and got her. She had a little bit of an attitude when we first brought her home, but I think it was due to fear of people more than anything. Even though she had been captive bred, she hadn't been handled much.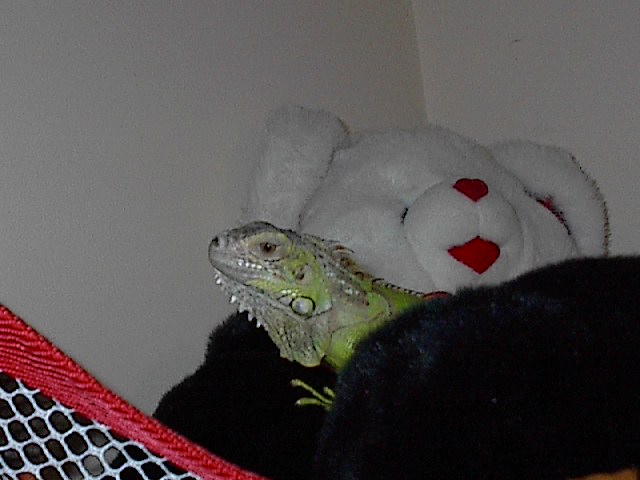 Aaron and I put EVERY spare moment into taming Ocula's wild side, and it has defenately paid off. Now she loves attention, loves people, and can even get along other animals. She loved being around her "little sister", Tumbillina, their size difference wasn't a concern she was never rough with her and never hurt her. She also loves spending time with Byndee and Boo. She will lay for hours atop their aquarium and watch them swim about before falling asleep at night.

When we first got Ocula in August of 2000, her SVL was about 4 inches or so. Now it is approximately 13 inches. And her tail, that's another 29 inches long, making her a total of 42 inches long, that's three and a half feet of pure iguana.

Of course she knows that she is spoiled, and takes advantage of it every chance she gets.