Aaron and I "got" Milo from Aaron's mom. Actually, I took him because Milo wasn't being very well cared for. His biological mom wasn't taking care of him or feeding him, and had left him in a junk pile. And on top of all that, the night before we had gotten there their Rottie, Tiny (whose not tiny what-so-ever), went after the poor little guy. And if you know me and my animals (from the other pages) I don't stand for animals not being cared for. So Milo went home with us.
As you can see when we first brought him home, he wasn't very big. When we went to the pet store to buy him kitten formula they estimated that he was between 5 and 6 weeks old, by the number of teeth he had.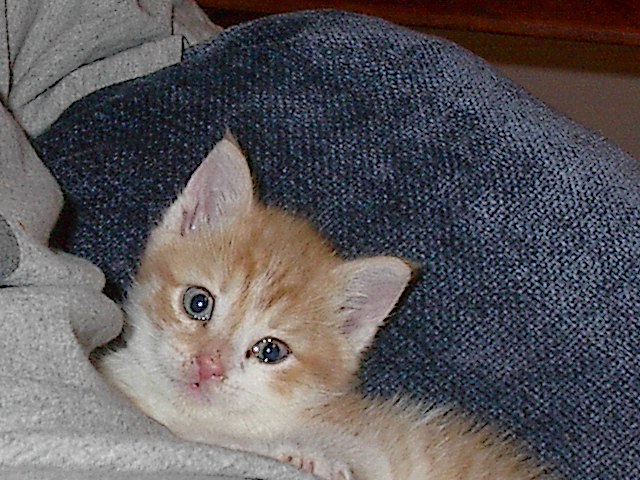 He loved all the attention he was getting from us and our family, and when we tried to leave him to his own devices he would have none of it, even at bed time. I worried constantly that he would get himself into trouble, so we kept a close eye on him. And we devised a way to get him to sleep without him being "alone".
We wrapped Aaron's watch around the stuffed lamb's belly (that is what Milo is cuddled up with) to simulate a heart beat. Boy did his lamby become his new best friend. Milo, along with Lamby and their basket, went everywhere with us. Milo has been on adventures to the pet store, Wal Mart, to Wegmans once, and even to a concert in Wellsboro. He slept through the entire thing, until everyone clapped at the end. He woke up because he was startled by the noise.
Well as you can see our teeny tiny baby grew, and grew fast! He know out weights and towers over Thomas (who has a few years on him, at least) by at least a couple inches when the run along side each other.
I think we have "tainted" him a little though. Now whenever he sees an empty laundry basket he has to be in it, no kidding. It's almost as if he is obsessed, but in a cute way. I will get a picture up ASAP.
And if it's not one, it's the other. There must be something about this desk.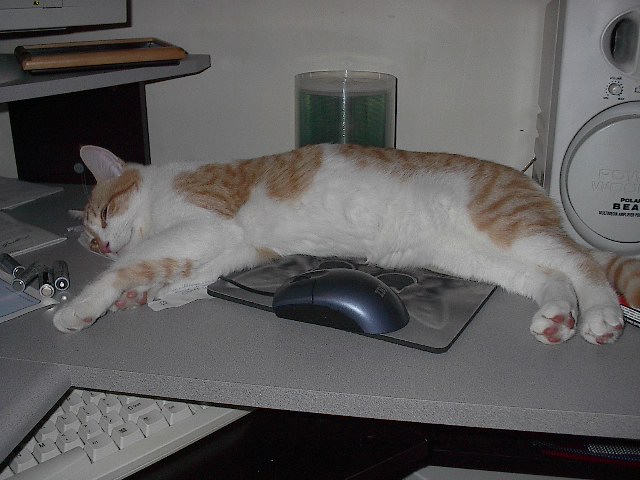 I just had to add these two pictures to my page. The picture below and the picture to the right of it are both of Milo. The first closer to the time when we first got him, his favorite spot at Mom and Dad's was under the light. The second picture, a few weeks ago, as you can see under the light is still his favorite spot, but he is getting a bit to big to fit in there. Now when he gets comforatble he has to move things around, like books, the lamp, etc...just so he will fit.