This is a sight that I use everyday. It will also give you an overview of where Aaron and I are attending school.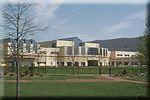 These are some websites that I use frequently when looking for information or troubleshooting tips on my animals.
This is the best information page when it comes to reptiles and other related animals.
This sight has some of the most beautiful, hand made, customized cages and housing for reptiles that I have ever seen.
I have found that information on Frilled Dragons, and sights about them, are very hard to find.
This is a nice page published by The University of Michigan
So far in my quest for links on Yellow Bellied Sliders, these are the only ones that I have been able to find. They are a hard species to find information about.
The site below is not an informational site, just one that I came across.