This is Thomas. He actually adopted us, rather than the other way around. He showed up at my Mom and Dad's house, almost 3 years ago, looking cold and hungry, so we started feeding him.

I wasn't about to let him be an outside cat during the winter months, so we took him to the vet for a check up and then Aaron and I took him home.

He is much happier, very friendly and very affectionate. He absolutely adores attention, and he has become very playful, especially with Aaron.
As you can see from the more recent picture directly below, Thomas has grown, and is letting me know who runs this household.
This is Thomas playing Yatzee with Aaron and I around Christmas time in 2001.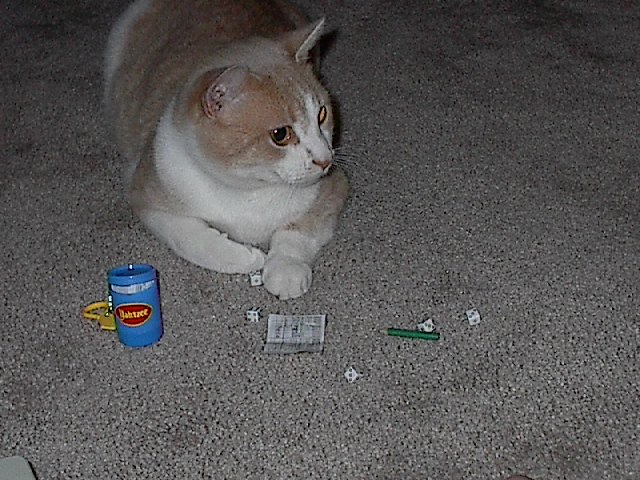 This is Thomas trying to convice Thumbillina to play too. She wasn't interested in him at all. Poor guy!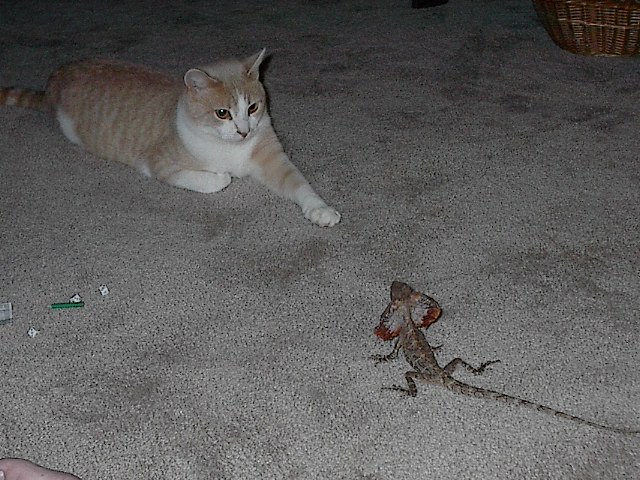 Thomas is now apart of everything that we do, from helping with the laundry to watching tv with Aaron and I. He was even a big part of raising Milo, no joke. When Milo came to live with us, Thomas wasn't to sure about the whole idea of it, but he took Milo in like a little brother and "showed him the ropes". To this day if Milo has a dirty face Thomas takes it upon himself to make sure Milo is presentable and is always letting us know when it is time to go to bed.