Well, here I am. I finally got around to putting a picture of me on here. Not the best picture of me, but it will do for now. This is of me at school (I am a Pastry Chef in training), after a long 6-hour lab. I was very tired, but still mustered up a smile for my dad.
I grew up in Wellsboro, PA. I went to school at the Wellsboro Area High School. I now live in Williamsport with my husband, Aaron. I am attending Pennsylvania College of Technology, majoring in Baking and Pastry Arts. We live in Williamsport with our Iguana, our Cats, our Turtles, and our Ferrets.

After being together for over three years we made it official. We all became a family on May 31, 2003. So far we are enjoying living on our own, the only downfall we have had is having to do our own laundry. So just to make Mom feel better we take a few loads home now and again. LOL!
This is Ocula, our Iguana. She is almost 3 years old. She is pretty laid back, and loves attention and definately loves her cilantro. Actually, her favorite foods are carrots, cilantro, spinach, and green beans. She has a brand new Reptarium 175, but refuses to live INSIDE it. We have her lighting set up so that she can stay where she wants to (on top of it) and still stay warm and healthy. She even has her own room in our house now. She absolutely adores it.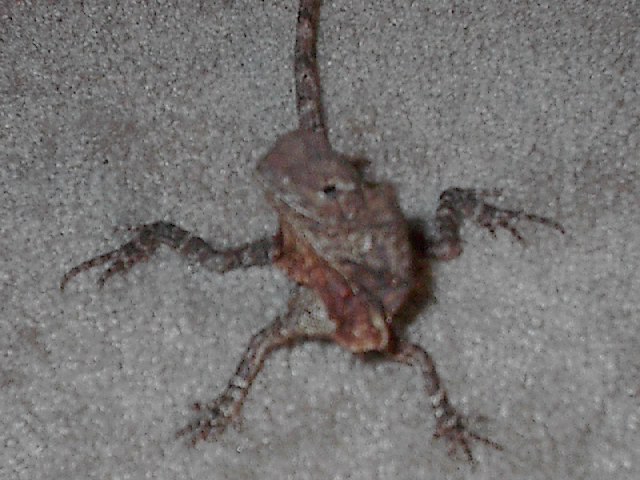 This is Thumbillina, our Frilled Dragon. She was just a baby, and very tiny and fragile. But don't let that underestamate her ablility to get into trouble. You can visit her portion of the website by clicking on the link below. Even after her unfortunate death I kept her page up, because she will always be with us in our hearts.
Byndee and Boo, are our tiniest edditions. They are Yellow Bellied Slider Turtles. They may be tiny, but they have already become a big part of our family. (Byndee is on the left and Boo is on the right.)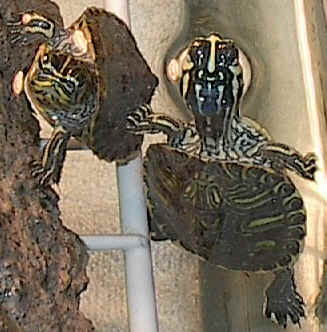 Thomas is a cat that adopted my parents about 2 years ago. I didn't want him to live outside over the winter so Aaron and I took him in. He lives with us in Williamsport now. He is playful little guy, loves attention, and gently biting your toes to wake you up when he's hungry. He even helped us raise Milo when we brought him home as a baby.
I am currently working on a separate page for each of my animals. Give me time, I have a busy schedule.